Jess Turner Releases Her Debut Album, "Jess Turner"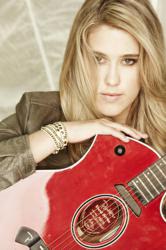 Rye, NY (PRWEB) May 22, 2012
Jess Turners self-titled debut album combines the accessibility and broad-appeal of pop music with a trained compositional style uncommon to the majority of singer-songwriters of her young age. In addition to her clear aptitude for composing with small ensembles, Jess lyrical themes are more inventive and thought-provoking than many of her contemporaries. With the bonding of her multi-instrumental abilities (piano, cello, and guitar) and soothing vocals, Turners talent as a performer becomes evident with the first listen of this album. "Jess Turner" showcases this young songwriters musical ability through her thoughtful compositions and raw ability as a performer.
Drown in His River, arguably the most soulful song of the album, starts with a gritty union of piano and upright bass met by Turners powerful voice. This song is well-composed and arranged without sacrificing any pop sensibilities for its melodic prowess. Drown in His River is unique in that it blends a very bluesy feel with an unquestionable pop sensibility – two worlds of music that rarely cross paths. The albums eighth track, Chesapeake, appears to draw influences from Ingrid Michaelsons jazzy voice, and acoustic guitar-dominated arrangements make it a very rewarding listen. The tactful placement of each track and the melodic tensions built by Turners compositional finesse make "Jess Turner" a polished debut for the young artist. On the surface, this album is simple pop – its easy to listen to and uses lyrical themes predominantly about love – however, "Jess Turner" is intricately arranged and very well thought out proving Turner isnt just a simple pop artist, but a talented songwriter with depth beyond her years and the tools needed to succeed at her disposal.
"Jess Turner" was recorded with Wayne Warnecke (Grace Potter, Deep Purple, Panic at The Disco), mixed and produced by Tim Reppert (Sly Stone, Whitney Houston, Beastie Boys) and mastered by Ian Kennedy (Matisyahu, The Lemonheads, Juliana Hatfield, Susan Tedeschi, Lori McKenna, Portugal The Man) at Soundtracks in Boston, MA.
You can learn more about Jess Turner and see her latest show dates on her website at http://www.jessturnermusic.com.
For further information/interviews/exclusives please contact Melissa Zeigler (at) powderfingerpromo (dot) com.
Singing the Anthem Ethan Higbee & Adam Bhala Lough – The Upsetter: The Life and Music of Lee Scratch Perry